You can simply forward email to others email accounts applying Mozilla thunderbird.
1. Just Open Mozilla thunderbird.

2. Just go to Inbox section, choose the message you would like to forward and it'll display the "Forward" option. Then hit on it.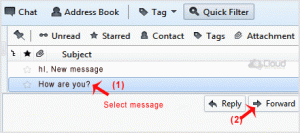 3. Type your message within the message box. Don't create any modifications to the e-mail title and the remainder of the text. Then simply hit on "Send" option.